Cottesmore School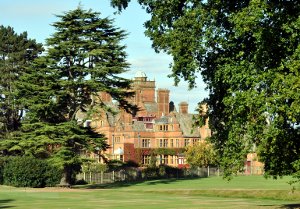 This private school in Pease Pottage occupies the spectacular Buchan House, which was built in 1883 by a wealthy ostrich-farmer and diamond mine owner, Philip Feril Renault Sailard (although rumour has it that he didn't do all the work himself). After Sailard's death, the house was bought by Upland House school and then by the Pearl Assurance Company, which occupied it during the Second World War.
In 1946 Buchan House and its associated farm were sold to Michael Rogerson, who had been a teacher at Upland House before moving to teach at Cottesmore school in Hove. He transferred Cottesmore school into the building.
One of Rogerson's sons, Mark, was given the school in 1971, and the other, Matthew, was given the farm, which he converted into Cottesmore golf club. The current headmaster of the school is Tom Rogerson.
The Victoria County History of Sussex includes more about the history of the house and the Buchan Hill estate of which it was part.
The School
Cottesmore School accepts both boarders and day pupils. It has been co-educational since 1974, and admits about 100 boys and 50 girls.
As well as traditional academic education, a full range of musical and sports activities are provided.
At the time of writing (January 2023), fees range from around £3,500 to £11,000 per term.
Cottesmore School's facilities are sometimes used by other organisations, including Crawley Swimming Club.
Location and Directions
Cottesmore school can be reached along the narrow road that runs next to South Lodge, an impressive stone house on Horsham Road at the crossroad with Grouse Road.
From the A23 or junction 11 of the M23, follow the signs into the village. Carry straight on along Horsham Road for about 400 yards until you come to a crossroad, where you should turn right.
Cottesmore Primary School, Oakham
Cottesmore School in Pease Pottage, Sussex, has no connection with Cottesmore Primary School in Oakham, Leicestershire.
Other Local Schools
Contact Details
website

email

phone

01293 520648

address

Buchan Hill, Pease Pottage, Sussex, RH11 9AU