Handcross County Primary School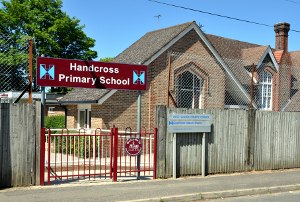 Handcross County Primary School used to cater for residents of Pease Pottage until Woodgate Primary School was opened in 2021. The school building dates from 1878, but contains modern additions.
The school currently has just over 100 pupils aged between 4 and 11. All pupils are given the opportunity to learn a musical instrument and to participate in various sports.
Admissions
Admissions to Handcross County Primary School are handled by West Sussex County Council from its offices in Crawley. Phone 0845 0751007 or email admissions@westsussex.gov.uk for details.
Administration
The school is governed by a board composed of:
the headteacher
4 community governors
4 parent governors
2 representatives of the local education authority
1 representative of the staff
The pupils participate in a school council, whose representatives share opinions with the headteacher.
Parents and Friends Committee
Handcross County Primary School is obliged to rely on a Parents and Friends Committee to raise funds for items such as lockers and computer equipment.
The main fund-raising event is the Summer Fair, which usually takes place in June.
Location and Car Parking
Handcross County Primary School is on London Road (Google maps mistakenly calls it Brighton Road), on the north side of Handcross, opposite Handcross Park School. There is an area for car parking immediately outside the school.
Other Local Schools
Contact Details
website

email

phone

01444 400291

address

London Road, Handcross, Sussex, RH17 6HB