The Red Lion Pub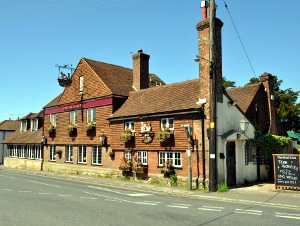 The Red Lion pub in Handcross provides food and drink in an olde-worlde atmosphere. Until recently it was owned by Punch Taverns, and operated under the Chef and Brewer brand. It is currently (in 2015) part of the huge Mitchells and Butlers chain, which also owns Harvester, Toby Carveries, and All Bar One.
History of the Red Lion in Handcross
The Red Lion was one of the better-known coaching inns on the old London to Brighton road. Its most famous customer was probably Horatio Nelson, whose younger sister, Catherine Matcham, lived in the village. Nelson himself lived for a while in Slaugham, opposite the church in which Catherine is buried.
A highwayman, Jack Ridding, was hanged outside the Red Lion, according to the late Roger Ray, the local historian and former newsagent in Handcross, although the story is uncorroborated.
The Red Lion was the location of the inquest into the deaths of 10 people after a top-heavy Vanguard bus crashed on Handcross Hill in 1906.
The Red Lion often hosted travelling boxing booths during the early twentieth century. A former British heavyweight boxing champion, "Bombardier" Billy Wells, was the landlord of the pub during the 1930s. Wells is probably best remembered as the original man who banged the gong at the beginning of J. Arthur Rank's films.
The current building dates from 1540, although there are several modern additions. It was badly damaged by a fire in 1978, but many of the original features were saved or restored.
Opening Hours
The Red Lion is open:
Monday to Saturday: 11:00 to 23:00
Sunday: 12:00 to 23:00
Meals are served:
Monday to Saturday: 12:00 to 22:30
Sunday: 12:00 to 21:30
(Hours are correct as of October 2015.)
Features
The Red Lion in Handcross offers:
The usual range of drinks, including Harvey's and two guest real ales.
Food, from sandwiches and snacks to a wide range of starters, main courses and puddings. A Sunday roast is available at about £13 per person.
Car parking: a decent-sized car park, with spaces for disabled drivers. Coaches are welcome by appointment.
A patio area with heated canopies.
Disabled access: the building is accessible by wheelchairs, and contains a suitable toilet.
Children are tolerated when dining.
Location
The Red Lion is on Handcross High Street.
Contact Details
website

email

no email

phone

01444 400292

address

High Street, Handcross, Sussex, RH17 6BP