G W Bridges Car Scrap Yard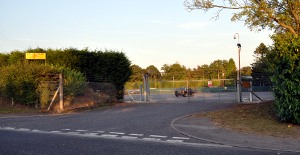 The Pease Pottage scrap yard run by G W & G Bridges is one of the largest car scrap and breaker's yards in Sussex and the south-east of England, with hundreds of cars of almost all models and ages. Cash is paid for MOT failures and unroadworthy wrecks.
History
G W & G Bridges is the only surviving car breaker's yard in Pease Pottage, and is on the site of a former county standard cricket ground. For many years Jeff Munn operated a similar establishment (a scrap yard, not a cricket ground) on the site of what is now Black Swan Close.
Opening Hours
Monday to Friday: 08:00 to 17:00.
Saturday: 08:00 to 16:00.
Sunday: closed.
Where Is the Pease Pottage Scrap Yard?
Every resident of Pease Pottage knows what's coming when you're walking down the road and someone in a tired-looking car pulls up alongside you and winds down the window: "Excuse me. Where's the scrap yard?"
G W & G Bridges breaker's yard is on Brighton Road between the main body of Pease Pottage and Handcross. This is Brighton Road in Pease Pottage, not Brighton Road in Crawley or Brighton Road in Handcross, both of which are within a couple of miles of Pease Pottage and are the cause of some confusion.
Bridges' scrap yard includes a large car park for customers. Don't park near the crusher, or you may end up carrying your car home in a wheelbarrow.
Directions to the Scrap Yard
From the M23 or A23:
Follow the signs to Pease Pottage (junction 11 on the M23).
You will come to two roundabouts in quick succession.
At the first roundabout, go straight on, past the motorway service station to your right.
At the second, smaller roundabout, go straight on again in the direction of Handcross and the B2114. The scrap yard is a couple of hundred yards along on your left.
From Horsham:
take the A264 to the large M23/A23 roundabout,
and follow the directions above.
If, instead, you absolutely have to drive through the village, go straight on past the Black Swan, over the bridge which spans the A23, and turn right at the small roundabout towards Handcross. The scrap yard is a couple of hundred yards along on your left.
From Handcross:
take the B2114 minor road towards Pease Pottage,
go straight on at a small roundabout,
and continue past the houses on your right (Tilgate Forest Row) and some small industrial units. The scrap yard is on your right.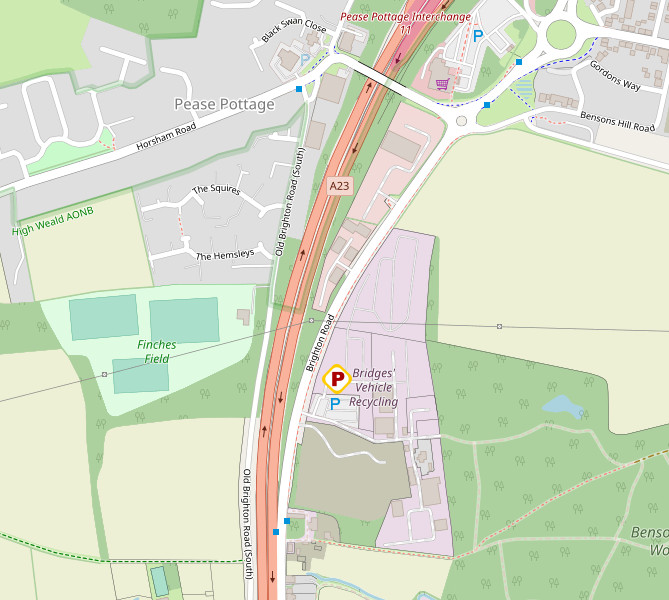 Looking for a Spare Part?
Please note that the website you are currently looking at contains general information about the village of Pease Pottage, and is entirely separate from Bridges' business. If you want to find out if the Pease Pottage scrap yard has a particular part in stock, please give them a ring on 01293 523684.
Bridges deals in parts for pretty much every make of car you'll find on the roads in the UK, e.g.: Alfa Romeo, Audi, BMW, Citroën, Daewoo, Fiat, Ford, Honda, Hyundai, Jaguar, Mazda, Mercedes, Mini, Mitsubishi, Nissan, Peugeot, Porsche, Renault, Rover, Saab, Seat, Škoda, Subaru, Suzuki, Toyota, Vauxhall, Volkswagen, Volvo.
Contact Details
website

email

phone

01293 523684 (spares) / 01293 601100 (salvage and disposals)

address

Brighton Road, Pease Pottage, Sussex, RH11 9AB