Nymans Garden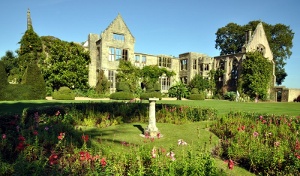 Nymans Garden in Handcross, just a couple of miles south of Pease Pottage, is one of the most attractive National Trust properties in Sussex.
Nymans contains:
a diverse and well-maintained garden
extensive woodland
a large mock-Tudor house, part of which is inhabited and part of which has been a picturesque ruin since a fire in 1947
Facilities
a shop and garden centre
a restaurant
toilets
car parking
disabled access
wheelchairs and a mobility buggy
iPod audio guides
Events
Events take place throughout the year, including:
open-air theatre
croquet
children's events
photography workshops
horticultural workshops
Opening Hours
(N.B. These opening hours were correct in May 2014, as far as one can tell. The National Trust website does not set out Nymans' opening hours clearly.)
The garden at Nymans is open every day; the house is open every day except Tuesdays. Last admission is 30 minutes before closing time.
Garden, Shop and Restaurant
between 10am and 5pm (10am to 4pm between November and February)
7 days a week
all year round, apart from the period between Christmas and New Year, and a handful of other days in winter
House
between 11am and 3pm
every day except Tuesdays
between early March and the end of October
Admission Prices 2015
Visitors may opt for Gift Aid admission: the payment of a small extra fee which allows the National Trust to recover a tax subsidy on the whole amount paid. Helpfully, the National Trust website includes a link, 'Find out about Gift Aid admission'. Unhelpfully, the link doesn't go anywhere. The website gives prices for 'family (1 adult and up to 3 children)', 'family', 'group adult', and 'group child', but does not explain what most of these categories mean, or where the dividing line is between 'adult' and 'child'.
National Trust members: free
adults: £11.00 (£12.20 with Gift Aid admission)
children: £6.00 (£6.60 with Gift Aid admission)
family (1 adult and up to 3 children): £17.00 (£19.00 with Gift Aid admission)
family: £28.00 (£30.80 with Gift Aid admission)
group adult: £10.50
group child £5.80 (Gift Aid admission does not appear to be available for the 'group adult' or 'group child' options)
Residents of Slaugham parish used to be able to apply for local residents' card which entitled them to free admission to Nymans. As of 2015, this is apparently available only to residents of Handcross. The National Trust website contains no information about this, so you may need to contact Nymans directly.
Location, Directions and Parking
Nymans Garden in Handcross is easily accessible:
By Car: Nymans is on the B2114, just south of Handcross High Street on the way to Staplefield, and contains a sizeable car park.
By Bus: Metrobus service 271 (Crawley to and from Haywards Heath) and the Handcross Community Bus stop almost directly outside the entrance. Metrobus service 273 (Crawley to and from Brighton) stops near Truggers, a couple of minutes' walk away. For up-to-date information, see www.metrobus.co.uk/travel-info
By Bike: National Cycle Route 20 passes along the B2114 immediately outside Nymans.
The nearest Railway Station is at Crawley, about 5 miles to the north. Three Bridges railway station is about 6 miles away, Balcombe station is 5 miles away, and Haywards Heath station about 7 miles away. The only direct link to Nymans by public transport is from Crawley station: the bus station is just over the road from the railway station. You can expect to find taxis at all of these stations apart from Balcombe.
Visitors arriving at Nymans by bicycle, public transport or electric car may claim a free cup of tea or coffee in the restaurant.
Other Gardens near Pease Pottage
Contact Details
website

email

phone

01444 405250

address

Brighton Road, Handcross, Sussex, RH17 6EB