The Royal Oak Inn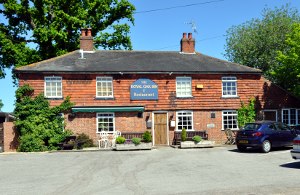 The Royal Oak Inn is an olde-worlde timber-beamed pub in Handcross. It is located on Horsham Road, just south of Handcross High Street.
Friends of the Royal Oak Inn
As of early 2021, the pub is closed and the owners have put it up for sale. A group of local people are keen to retain the pub as a feature of Handcross village, and are hoping to form a Community Benefit Society to purchase the pub. Members would each invest a minimum of £250 to obtain a share in the ownership of the building.
There are community-owned pubs all over the country, including one in Balcombe: https://www.halfmoonbcpl.co.uk/useful-links.
For details, and information on how you can help the Royal Oak, see the organisation's website: https://foroi.co.uk/.
Contact Details
website

email

phone

phone number not available

address

Horsham Road, Handcross, Sussex, RH17 6DJ